WordPress blog setup for new bloggers
Confused about how to set up your new WordPress blog?
If you have recently decided to start a new blog then you may be confused about exactly which provider to build it on.
There are dedicated services like Blogger, blogging sites like Medium, and then there is WordPress.
There is WordPress.com and WordPress.org, and if you don't know the difference between the two then I will explain.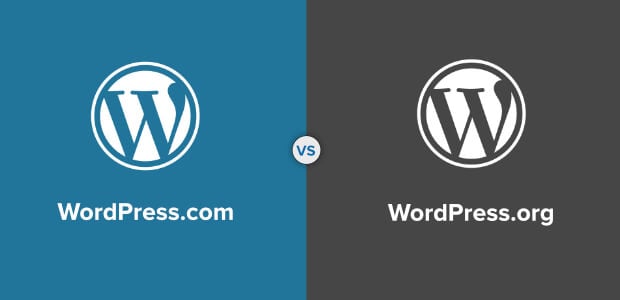 WordPress.com is kind of a WordPress 'lite' it's a hosted version that you can start for free, with a free domain name, and start blogging almost immediately.
WordPress.org is the 'full' version of WordPress that has all the bells and whistles and is highly versatile.
This is the version that gives you plugins, widgets, and full control over your theme.
It is a bit more complicated for the beginner, but the setup of your new blog on WordPress is easier than you think.
With a bit of guidance, you should be up and running relatively quickly.
You may be asking yourself why you should bother as WordPress.org seems like more work. You are right, it is.
However, the benefits of getting to grips with WordPress.org far outweigh the time you may invest in learning how to use it.
There are hundreds of bloggers out there that have started on the 'easier' platforms, only to find that they need more once they become proficient bloggers.
The result is that they end up moving to WordPress to set up their new blog.
The other issue with hosted services is that they can be limited in terms of SEO, something you are going to most definitely need if you plan on your blog reaching an audience.
To avoid having that kind of hassle, it's easier to start as you mean to go on and set up your new blog on WordPress from the beginning.
Not sure how to do it? Well, here is a step-by-step guide to get you started.
Hosting service for WordPress blog setup
There are literally thousands of hosting services online.
Some are organizations in their own right, some are resellers of larger organizations' products.
This is the place on the internet where your site 'lives' and making sure you have found the right home can be important.
There are a few things to consider when picking the host where your will set up your new WordPress blog.
Make sure they are a domain name seller
It makes life easier when setting up your blog. If you buy a domain name and hosting from different providers you will need to fiddle about changing nameservers.
Although it's not difficult, it's a technicality that you can avoid by having a host that sells domain names.
Make sure they have good uptime
This is the amount of time the host is online and your site is live. Meaning minimal interruptions for maintenance and service issues.
Note: no hosting service will have 100% uptime but most will guarantee 99% or more. Try to get as high as you can even 99.5% or 99.7% if possible.
1 click WordPress install for setup of WordPress blog
Makes the installation uncomplicated. The goal is to get you blogging asap, not waste time on unnecessary tech stuff.
The one-click install simplifies your new WordPress blog setup. Installing it onto your domain in just a couple of minutes so you can start designing your website ASAP.
Online chat or decent tech support
Should you run into issues or troubleshooting that you need help with, you need to be able to source solutions quickly.
You need support that is easily accessible via chat or other methods.
Or at least a large searchable database of questions and answers.
If you are unsure about which hosting provider to use and would like my suggestion then try Jolt.
They have a cheap annual fee, backup options, online chat, and domain name purchase as well as multiple other optional add-ons.
Once you have your domain name and have purchased hosting from your provider, you will want to install WordPress.
Before you do that, let's do a quick check and type in your website address (www.yourwebsitename.com) to your browser.
If everything has been set up correctly with your host you should see a screen that looks like this.
This screen means your domain name and hosting are properly functioning and you are ready for your WordPress install.
Navigate to your cPanel from your hosting provider, most will have a clickable link that takes you right into it.
You will be faced with your cPanel dashboard. There are a lot of icons but ignore them for now as we are just focussing on what we need to install WordPress.
As long as you have selected a hosting service that gives you 1 click WordPress install this part is easy.
Look for an app or software installer like this, find the WordPress icon (first on the left), and click on it.
You will be presented with a screen that asks for some basic information. Follow the onscreen prompts and fill out all the details required.
Make sure the username name and password that you use for your blog are unique and secure.
No new blogger wants to get their website hacked so make sure your password is strong enough.
To find quality writing and content creation jobs go to www.gigleads.uk
Selecting a theme for WordPress blog setup
Now you want to make your blog look great. Use the free templates provided by WordPress and create compelling visuals that will make your blog stand out.
There are also a number of free themes available depending on your needs. A personal favorite of mine is Blossom Themes. They provide beautiful responsive themes that are easy to customize and work perfectly for a new blogger.
Navigate to the 'Appearance' section of your WordPress dashboard. Click 'add new' and then type in Blossom Themes in the search bar.
Then pick a theme and install it.
Tip: you can also preview any theme to see what it will look like 'live'.
Designing your blog
What is 'good' blog design? There are literally millions of blogs that live on the internet and that number is being added to and increasing every day.
Travel blogs, Mum blogs, lifestyle blogs, tech blogs, and food blogs to name a few and hundreds more besides.
All of them vying for 1st-page positions on Google.
How can you get ahead of the curve and make sure that your blog is appealing enough to stay on the page and read more than the typical 2 seconds?
It can be a lot to manage if you are a new blogger.
You need to grab your website visitor's attention right away and some of that can be down to quality eye-catching images and content, and good blog design.
Style and content
So how can you be sure that your blog design isn't turning people off? If you are experiencing a high bounce rate you may want to take a critical look at the design and format of your site's pages.
Maybe get a couple of friends to provide honest feedback about what they think about the content and useability of your site.
The reality is that if your blog is not neat, clean, and readable, you are going to lose visitors.
When styling and setting up your blog pages think about it from the point of view of your blog visitor.
Is your site easy to navigate?
Are menus easily accessible and link directly to the appropriate content?
Is the overall feel and flow of the site pleasing?
This is known as User Experience and making your site a smooth experience for visitors helps to keep them on your site longer.
Along with UX (User Experience), you should also consider the content that you are providing. Does it provide solutions to the answers your users are searching for.
In other words, it may be easy to rank for a specific search term but does the content you are providing support that term?
If not it can lead to people 'bouncing' right away from your page.
Pages to setup on WordPress blog
Depending on what sort of blog you are doing you may not need to have a large number of pages.
It can get confusing for both you and your website visitors. For most bloggers, 4 or 5 pages will be enough.
These typically include
Home
About
Blog
Contact
Product Page(if needed)
All of your blog posts are stored on the 'Blog' page, it is worth making some of these featured or recent posts on your home page for a higher level of visibility.
The rest of the pages are to promote you, your site, and possibly your products.
Categories and Tags
To divide your pages into easily searchable topics you can use categories and to refine further it is recommended to use a few tags on each of your posts.
For example, if you run a travel blog and are creating a post about 'Best cafes in Paris' then your category will be 'travel' or 'food' and you would tag your post with descriptive words like 'Paris','cafes', or 'food'
Setup Email Opt-in for WordPress blog
This is especially important because it is how you gather followers and build an email list, and as a new blogger you will need that.
Your opt-in form is where users click to sign up and receive emails or newsletters about new blog posts and other information.
Your email opt-in form should be located in a few prominent places on your blog pages.
These could be a header bar, a call-to-action on your banner or slider, or on your blog sidebar.
Often an opt-in or sign up form can come included with your theme, and you can change the call to action wording to suit you.
Once visitors sign up, keep the newsletters and emails coming to drive engagement. About once a week is the preferred amount.
An easy tool for bloggers to design custom emails and newsletters is Mailchimp.
You can also use a lead magnet to attract people to sign up. This can be a bit tricky for a new blogger but there are lots of articles online that can help you.
You could give your readers something to download for free for example.
This is a great idea for a brand new blogger and it provides a trigger that helps to grow your audience.
Social media sharing
Now that your site is live and you are adding a regular amount of content to it you will need somewhere to share your posts and drive more traffic to your website.
This is where social media comes in.
You can use Facebook, Twitter, Pinterest, Instagram, and other platforms to share your content and build your audience.
Design custom graphics where possible and research hashtags appropriate for your site.
Social Media Management can become time-consuming so you may want to invest in a content calendar or sharing tool to help you manage your accounts.
It is also worth considering which social accounts you want to use and set up just one or two at first.
You can share posts to social media and promote your site, but did you know that your followers can do that too?
Make it easy for them to share your content by installing a sharing plugin.
This handy tool will list a set of links at the end of your posts that the visitor can use to post your article to their own social media sites.
Plugins will typically enable you to select and customize the accounts that your posts can be shared to.
They include social media channels like Facebook, Twitter, Instagram, and Pinterest along with sites like Tumblr, Medium, Digg, and Reddit.
Wrapping it all up
If you have followed these steps then you should have a fully functional, self-hosted new WordPress blog set up and ready to go.
By this point, you should be able to start adding some articles and creating whatever content you want to share.
To find quality writing and content creation jobs go to www.gigleads.uk